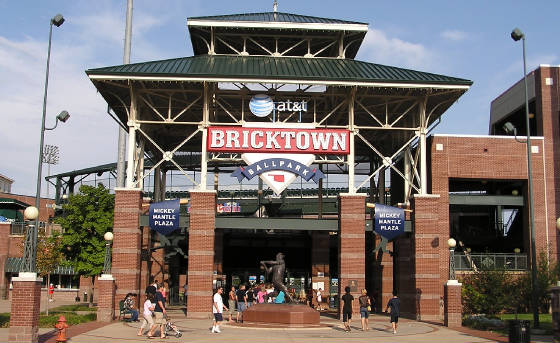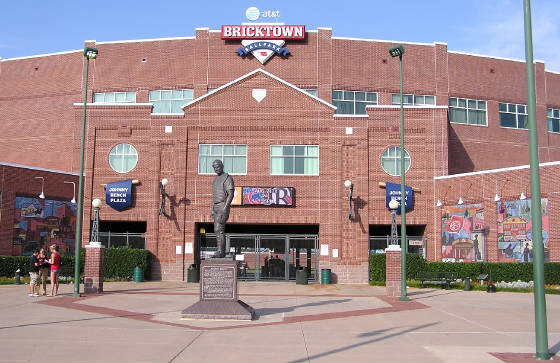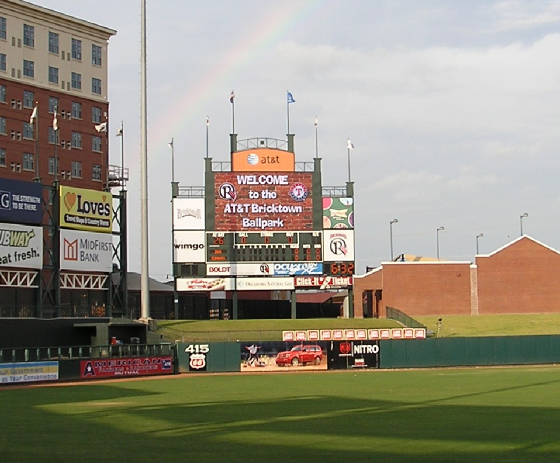 TEAM ::: OKLAHOMA CITY REDHAWKS
LOCATION ::: OKLAHOMA CITY, OKLAHOMA
MY FIRST VISIT ::: AUGUST 24, 2008
OPPONENT ::: IOWA CUBS
LEVEL ::: PACIFIC COAST LEAGUE 'AAA'
PARK FORMERLY KNOWN AS ::: SBC BRICKTOWN BALLPARK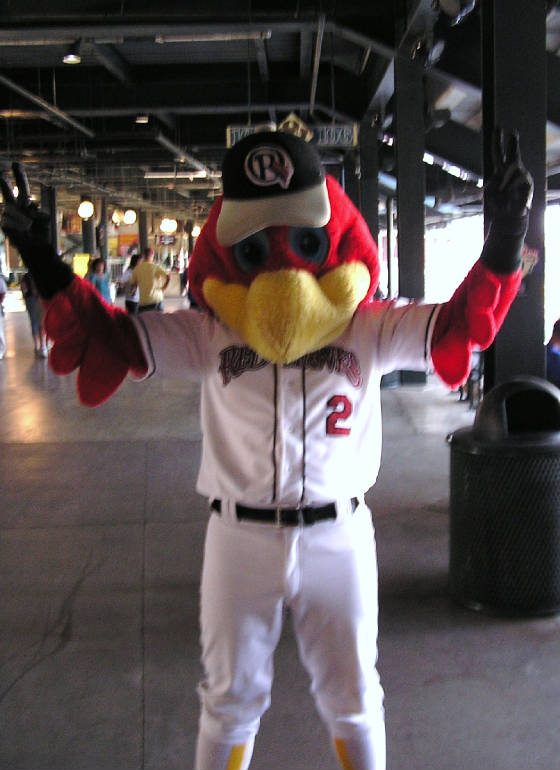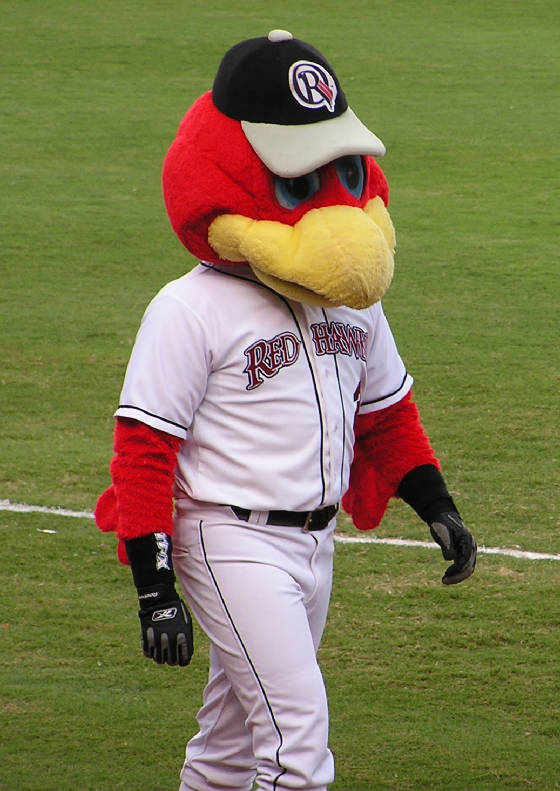 RATINGS
BALLFIELD ::: A
SCOREBOARD ::: A
FOOD ::: B
FACLITIES ::: A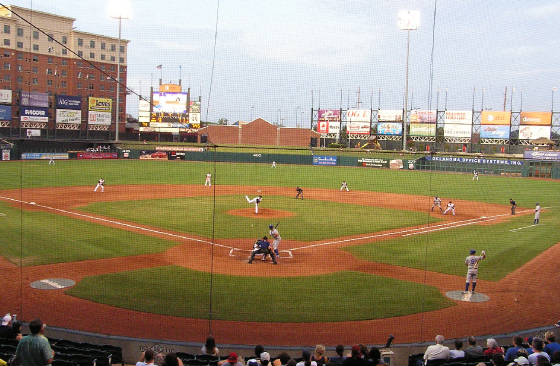 MY TAKE ON THE PARK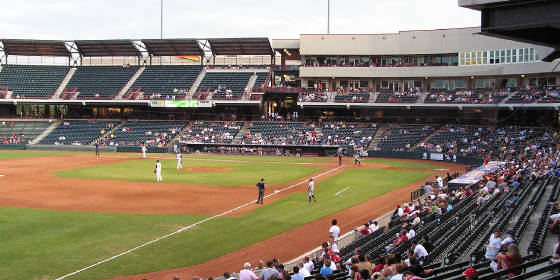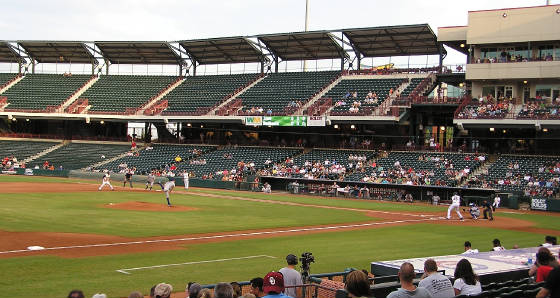 Oklahoma City was a complete surprise to me. The ballpark is located in the Bricktown area of Oklahoma City, complete with canals and restaurants making a trip the Bricktown Ballpark an event more than just a trip to a ballgame.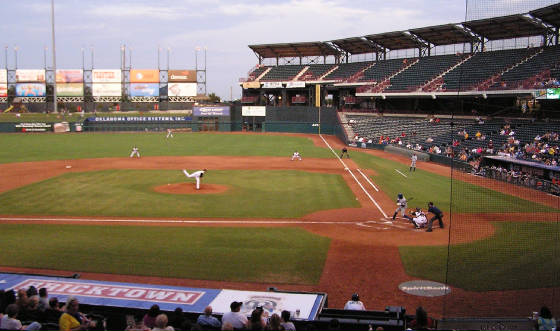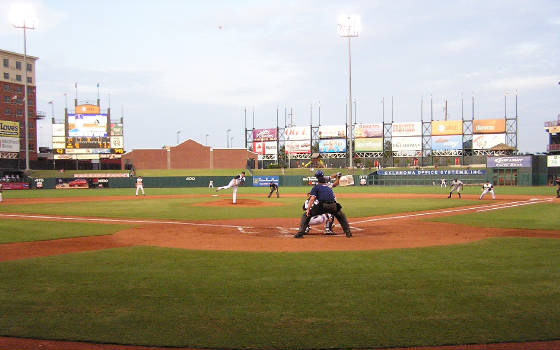 Getting to the game is pretty easy, located a few blocks off the Interstate there is sufficient parking, $10 closest to the park and down to $5 if you walk a few blocks. The brick exterior blends in with the theme of the area. There are two entrances, both honoring local legends. At home plate to the Johnny Bench entrance and down third is Mickey Mantle. There are also busts outside the park of famous Oklahoma City residents, Bobby Murcer had just passed away and there was a Navy blue and whit wreath around his, a classy and touching display.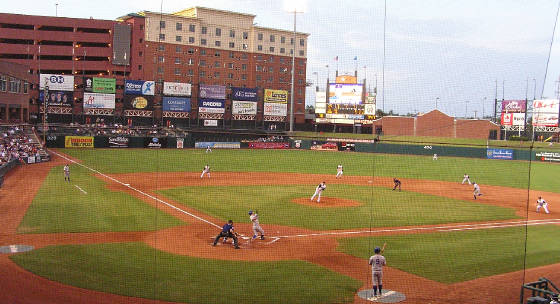 Once inside, standard new two level old time ballpark. A very wide concourse awaits with various concessions, all offering standard ballpark fare. I tried the chili dog and aside from being messy was only average tasting. To mu surprise, a Game Program is not offered here. Neither given away or to be purchased. In place an informative game notes packet is handed out. Standard press kit which told me all I needed to know about the Redhawks.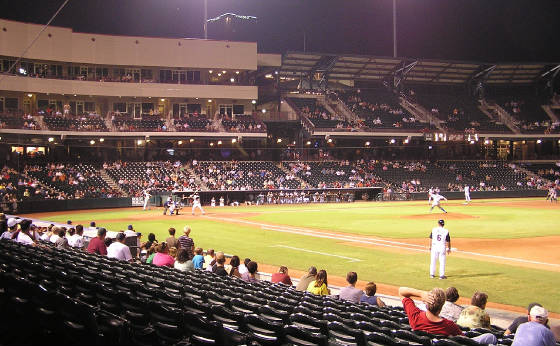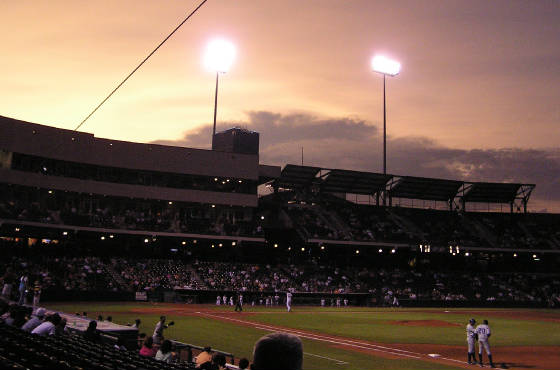 Once the game was underway, the game was handled very well here. A quick scoreboard along with an Australian PA Announcer who kept between inning promotions flowing and upbeat. Considering there was a pretty sparse crowd, the game staff all seamed into the game and making sure all had a good time.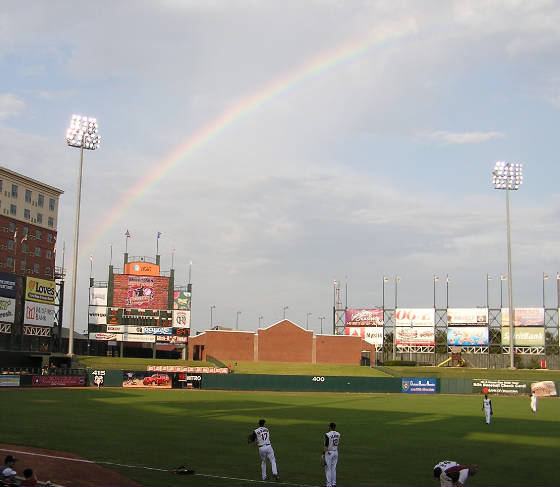 Visiting a ballpark on the final game of the season offers some interesting dilemmas. Generally the staff is more anxious for the game to get over than a team at the end of a two week road trip. That being said, a trip to see the Redhawks is highly recommended, a large comfortable ballpark where the game comes first.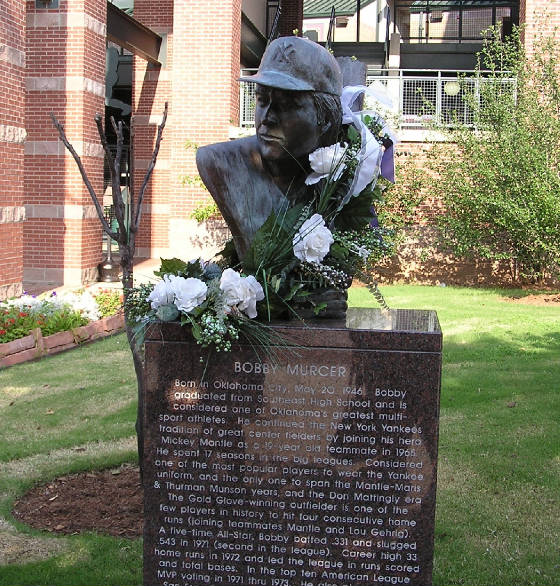 As an aside, there are other areas of Oklahoma City to visit aside from the park. The Bricktown area is fun for the restaurants, the canals, and the live music. But there is also the Memorial which is an important place to visit. Not a fancy tourist attraction but a place that really should be seen.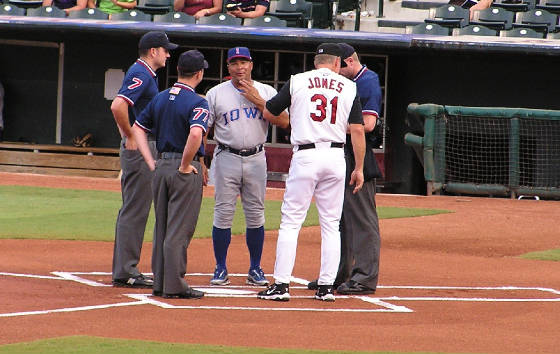 THE LINE UPS
Iowa Cubs Manager :::
4 Pat Listach
Oklahoma City Redhawks Manager :::
31 Bobby Jones
IOWA CUBS
26 Andres Torres lf
20 Felix Pie cf
24 Micah Hoffpauir 1b
9 Casey McGehee 3b
21 Josh Kroeger rf
11 Bobby Scales 2b
23 Koyie Hill c
12 Luis Figueroa ss
28 Tony Richie dh
36 Mitch Atkins p
43 Jesse Estrada WP
22 Kevin Hart S

OKLAHOMA CITY REDHAWKS
17 Casey Benjamin ss
4 Ryan Roberts 2b
45 Nelson Cruz rf
28 Chris Shelton 1b
20 Nate Gold dh
19 Max Ramirez c
26 John Mayberry lf
35 Travis Matcalf 3b
12 Craig Gentry cf
59 Luis Mendoza p
50 Jose Diaz LP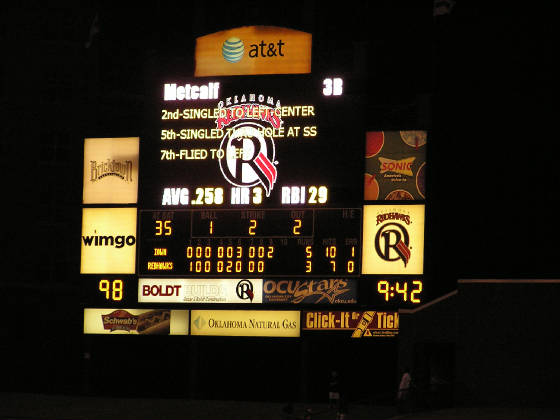 IOWA CUBS 000 003 002 5 10 1
REDHAWKS 100 020 000 3 7 0
TIME ::: 2:38
ATTENDANCE ::: 6,067
WEATHER ::: 85 BREEZY CLOUDY
SEND ME AN E-MAIL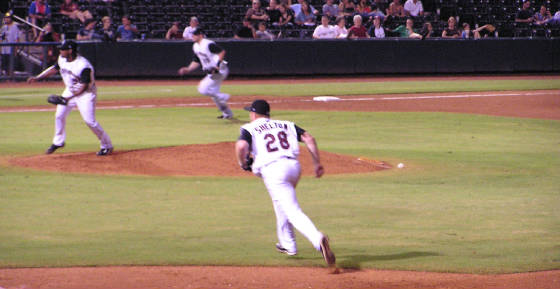 LINKS
The Official site of the Oklahoma City Redhawks
Legends of America - Route 66 Oklahoma
Oklahoma City weather from WEATHER.com
Site last updated:::

© 2000-2012 UNCLE BOB'S BALLPARKS
I AM IN NO WAY AFFILIATED WITH ANY OF THE TEAMS ON THIS PAGE ... THIS PAGE IS MEANT FOR INFORMATION PURPOSES ONLY.